Welcome >> Our Cafes >> Elephant Cafe at the Orietnal Village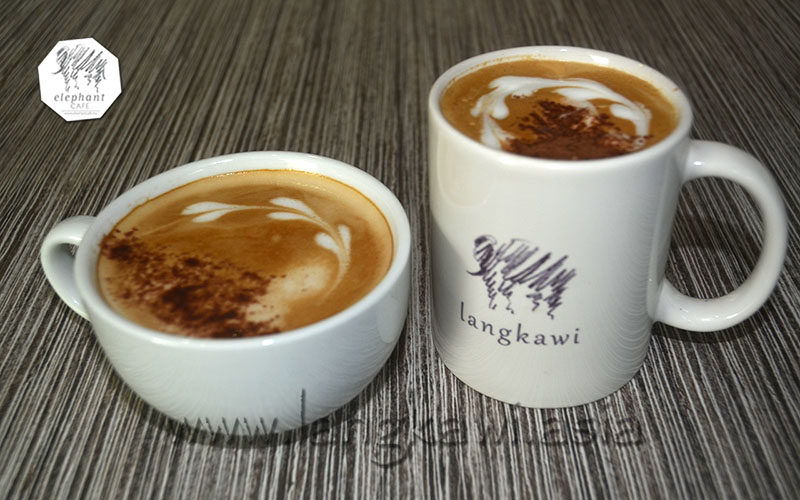 ELEPHANT CAFE LANGKAWI
At the Oriental Village
ANIMAL ADVENTURES PROMOTION

GET FREE TICKETS TO TIGER! TIGER! LANGKAWI
• Get Two (2) Adult Tickets for Every RM50 Spent; OR
• Get One (1) Adult Ticket for Every RM30 Spent; OR
• Get One (1) Adult Ticket for Every Set Lunch Ordered.

GET 10% OFF ELEPHANT ADVENTURES
• Get 10% OFF an Elephant Adventure for Every RM50 Spent

Time for a Great Coffee Experience

We opened our first specialty coffee outlet in May 2011, locating it adjacent to Tiger! Tiger! Gallery & Exhibit's "live" tiger exhibit––a feature we are most recognized for. However, in February 2015, Zanah was relocated to an all-new enclosure nearby and her "vacancy" has since been taken up by a family of six raccoons.

| | |
| --- | --- |
| | |
| Enjoy a Cup of Langkawi's Finest with a Family of Six Raccoons to Keep You Entertained | A Popular Feature Formerly at the Cafe, Zanah Has Since Relocated to New Grounds Nearby |

Surf the internet in an air-conditioned environment as you await your turn at the cable car.

In conjunction with our wildlife exhibit and work with tigers, those interested in learning more about tigers may also watch documentaries on tigers and/or tiger conservation. A wide variety of wildlife reference books and other reads are also available in our collection/library.

Wildlife exhibit, conservation documentaries, FREE WiFi, air-conditioned and GREAT coffee: Elephan Cafe Langkawi offers the coolest coffee experience at the Oriental Village indeed!

A New Experience from 2016

From Janaury 2016, while still serving coffee cultivated in the pristine enviroment of the Bolaven Plateau in Southern Laos, "Elephant Cafe Langkawi" will take over the baton passed to it by "Bolaven Cafe Langkawi" in a rebranding exercise.

To accommodate those who prefer the outdoors, especailly in the cooler evenings, Elephant Cafe Langkawi will also feature a new outdoor seating area under the shade of bamboo and fruit trees in the Oriental Village. (Outdoor or not, smoking is not permitted in any of our seating areas.)

| | |
| --- | --- |
| | |
| New Pasta Offerings with Mussel | Cool Settings |

From this 2015 Christmas/holiday season, Elephant Cafe Langkawi will also be introducing a heavily revamped menu that includes new Roast Beef Sandwiches, Pasta options and others both international and local favorites.
Signature Coffees
| | |
| --- | --- |
| | |
| Hati-hati Latte | Free WiFi at Elephant Cafe Langkawi |

Serving Bolaven Farms coffee since 2011, the Elephant Cafe Langkawi has confidently served one of the best––if not the best––coffee on Langkawi. But don't take our word for it, read all about some of our guests reviews.

Not one to sit on our laurels, for 2016, Elephant Cafe Langkawi will introduce more coffee brands/blends to satisfy the discerning coffee drinker.
Cafe Location
Elephant Cafe Langkawi
E.01 Oriental Village, Burau Bay, 07100 Langkawi, Kedah, Malaysia
Tel.: +60.4.966.2292
>>> NEXT PAGE: RABBIT CAFE AT THE LANGKAWI WILDLIFE PARK
Revised November 22, 2015TRIAL
>>> Top of Page